The "Kolodets 3D" represents 3D visualization system with immersive panoramic projection. Output data of the system is 3D environment generated by the "Iris-T" or other visualization systems.
Main application areas for the system are the following:
joint usage with virtual simulators (individual or group)
visual information demonstration
situational centers and conference rooms
exhibition stands
Visualization of simulation modeling results on different screen types (flat, cylindrical, irregular shape)
Usage of the panoramic projection system in combination with simulators benefit to gain presence effect which allows considerably increase basic simulators capabilities and change quality of training events
Screen system
For the benefit of screen system development standard configurations of screens are available such as cylinder, sphere, semi sphere, conic frustum as well as other screens types made under individual order.
Individual design features are specified on Customer requirements. Changing performances of screen systems are:
diameter
height of screen sidewall
type of shading system
screen surface material
total weight
Viewing angle of screen system varies up to 360o horizontally and up to 180o vertically for cylinder screen as well as up to 180o horizontally and up to 110o vertically for spherical screen. Individual viewing parameters are determined during bespoke Customer display needs. Viewing angle modification pitch is not limited.
For exhibition and presentation stands it is possible to display Customer images on external surface of screen system.
Projection system
Displayed image for immersive panoramic projection preliminary separated on some visualization channels each of which distributed to certain projector taking into account seamless connection of viewing channels provided by developed software.
Blending of displayed image in coupling areas is compensated in order to achieve equal brightness as well as contrast parameters in all view width. Operating angles of projection in 60o permit to diversify overall width of resulting image up to 360o.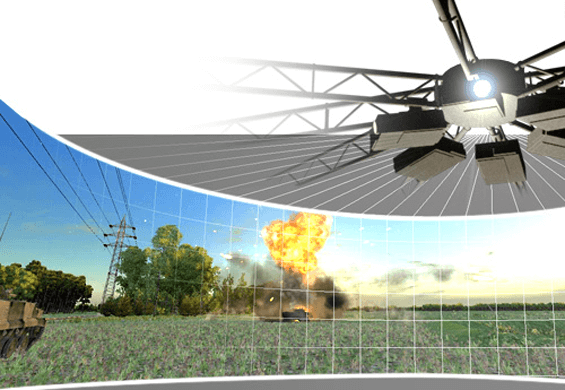 OS support